To Praise, To Bless, To Preach
If you were unable to attend the Saint George Parish Mission, the entire mission is available below.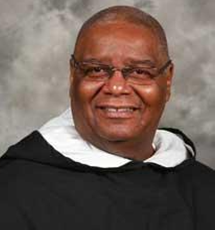 Fr. Brian Guadalupe Walker, OP
Mission Preacher
Father Walker was born in Chicago and was educated through the school system of the Archdiocese of Chicago. He earned a B.A. in Theology from Loyola University in Chicago and continued his seminary studies where he earned an M.Div. with Mission Specialization from Catholic Theological Union in Chicago.
Father Walker entered religious life in 1978 and was professed August 9, 1980. He was ordained to the priesthood on March 15, 1986. After spending several years in the missions of México, Father Walker has spent the majority of his priestly years working in inner city and bilingual parishes from Los Angeles to Chicago and preaching from coast to coast. He has lectured extensively on working in bilingual settings and tolerance and understanding in ministry.
Being a member of the Order of Preachers, popularly known as the Dominicans, Fr. Walker spends extensive time preaching on how we can better our lives and develop our relationships with all of God's people. We are called to be sisters and brothers to one another.We have to break down the walls that divide us and keep us from our goal. At present Fr. Walker is assigned to St. Pius V Priory in the heart of the Mexican-American community in Chicago