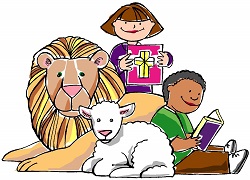 Children's Liturgy of the Word takes place each Sunday at the 9:30 AM Mass. Children's Liturgy of the Word offers the opportunity for us  to share  Sacred Scriptures, readings, reflections, and prayers  in age appropriate and meaningful ways.
We extend a warm welcome to children ages four to ten.  For the safety of everyone, we do request children and adults who wish to accompany them be masked at this time.
We are also looking for volunteers to supervice and those who might wish to teach as well.
Any questions or concerns can be directed to Dawn Bartos at 708-921-1528 or email: dawnbartos18@gmail.com