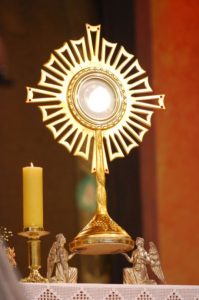 Tuesdays  – 6:00 PM to 7:00 PM (with Benediction)
Holy Family Chapel – Monday through Friday (11:00 AM to Midnight)
Holy Family Chapel is open.  Based on initial response from previous regular adorers, the chapel will be open from 11:00 AM through and 11:00 PM (closing at midnight) on Monday through Friday.  Restarting with perpetual adoration does not seem feasible at this time.
If you are willing to consider taking a regular weekly hour, now is the time to register the hour that works for you.  To register for the hour you prefer, please use your computer, ipad, or smartphone to reach: https://adorationpro.org/StGeorge60477.  Once there, press "Weekly Commitment".  Then select the hour you prefer and enter the requested contact information.  Press "Signup" to complete your registration.  If you do not have electronic access, please call Bill Beckman at 708-429-2762 to register your hour. 
If making a regular hour is difficult because your schedule changes, please consider becoming a substitute adorer by pressing "Become a Sub" (under "Weekly Commitment").  You will receive notification by text or email when a substitute is needed so you can decide if that hour works for you that one day and time.  Regular adorers can also register as potential substitutes to help make certain chapel hours are covered.
Please share this great news about Holy Family Chapel with others and encourage them to register for a regular weekly hour.  It is very important that all available hours have two committed adorers so that re-opening Holy Family Chapel can proceed.