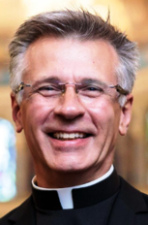 October 17, 2021
What a wonderful day we had last Sunday as we honored Father Ken Fleck for his forty-five years of priesthood and seventeen years as our pastor. God gave us a beautiful day and Saint George turned out in fine numbers. It was a prayerful and joyful Mass followed by
a laid-back, relaxing picnic. We had music, face-painting, a balloon artist, games, spontaneous line-dancing, hot dogs and great fun. A big thank you to the Tinley Park Fire Department for bringing a truck and allowing our young people to explore.
I am especially grateful to Tom and JoAnn Schutzius and the entire committee who worked so hard to make a lot of loose ends come together. Our next celebration will be Sunday, November 14 at Gaelic Park. By now, you should have received an invitation. If not, please contact the parish office. We will honor Father Ken in a little more formal way along with our COVID cleaning team members who made public worship possible. If you would like to help organize that event, please join us on October 18.
I walked with Father Ken to his car as he was leaving the picnic. Reflecting on some of his words at Mass, I mentioned how these kinds of parties are not just about a priest but also the priesthood and the parish itself. These are the moments that become markers in the life of a parish. Each pastor gives direction to a parish. As the parishioners respond, a natural give-and-take begins, and the Spirit moves the community to a deeper sense of God's presence.
Please plan on joining us for November 14th. After all we've been through for the past year and a half, it will be another sign that Saint George is back in action7