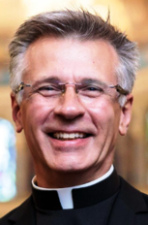 January 16, 2022
There are certain lessons that seem to continually pop up in my life. For me, the most frequent one is gratitude. As I have mentioned before, I believe gratitude could be the antidote to many of the world's problems — if not the world's, at least my own. Feeling gratitude takes away a tendency to jealousy, anger and greed, among others.  Concentrating on what we have rather than what we feel we are missing, or worse, cheated out of, lends itself to a certain contentment. It inclines us more towards calm and joy.
We've all learned a lesson about what a blessing our health is. There are many threats to our health, so doing whatever we can to preserve it is to preserve a treasured gift from God. Gratitude for our families, even though they may not always be ideal, is to recognize the gift every person is intended to be for us. And during these cold, cold days, we receive a stark reminder of how fortunate we are to have homes that are warm and safe.
One result of a grateful heart is to see the pain of others who do not have what we have, sometimes not even the basic necessities of life. Even in our own country, there are areas where the ordinary things we take for granted are in short supply. Think Flint, Michigan where they still don't even have safe water!
The lesson of gratitude came to mind last weekend as a pipe burst in the rectory, bringing down the entire ceiling in the kitchen and flooding into several rooms. What a mess! Water, insulation and general dirt were everywhere! Father Tom thought he heard running water, and within a couple minutes, the ceiling collapsed! I was grateful that our maintenance man, Jim Faller, got here as quickly as possible. I was grateful and relieved to see the cleanup crew arrive on a late Saturday night. I was grateful to know insurance will cover a great deal of the disaster. I was grateful to know no one was hurt. And I was grateful when the water was turned back on, and the heat was working.
At this moment, it is hard to foresee what work is ahead. The flooring, kitchen cabinets, basement carpeting, office ceiling and other elements need to be evaluated. Perhaps by the time you read this we will have a better fix on things. 
Too often we forget what we have until suddenly we don't. Our health, our homes and most importantly, our friends and family, these are the gifts we can too easily take for granted. Yet they are among the most important. And over all these is our faith in God, who is the source of every good thing in our lives.16