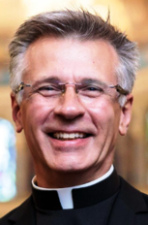 August 1, 2021
Today's Gospel ends with the words of Jesus: "I am the bread of life; whoever comes to me will never hunger, and whoever believes in me will never thirst." The Eucharist is the core of our belief. For us Catholics, "Eucharist" is not a thing, it is an action — God's action, as the Holy Spirit comes down upon simple gifts of bread and wine and becomes the Body and Blood of Christ. The Eucharist is not only receiving Holy Communion. It is taking part in the saving action of Our Lord, as we experience the everlasting memorial of Jesus' death and resurrection. Being present for this action is a key element of our faith.
For many months, a great number of Catholics did not receive Holy Communion because of limitations due to COVID-19. Others are unable to receive or be present because of ongoing health issues. Thanks to our dedicated Agape ministers, the homebound can receive Holy Communion and the prayers of our people. Watching Mass on TV or online is good when it is the best possibility available. But it is in the combination of the Word, Eucharistic action and Holy Communion that we are graced with the whole cycle of Our Lord's saving mystery.
Another way of giving honor to the Blessed Sacrament is in Eucharistic Adoration. For twenty-six years, Saint George offered twenty-four hour, seven days a week Adoration in our Holy Family Chapel. What is the point of Eucharistic Adoration? It's main intention is to whet our appetite for the Eucharist itself. It is intended to encourage a yearning in our hearts to experience the Eucharist and receive the Body of Christ.
Eucharistic Adoration has also been described as "Us looking at Jesus looking at us." I like that description because it reminds us that God is not passively waiting for us to show our devotion. Jesus yearns for your love, too! In those moments of quiet, "keeping company" with Jesus, we can find a renewed sense of peace. In the chaotic life so many of us experience, He invites us to "Come away by yourselves to a deserted place and rest awhile," as we heard in Saint Mark's Gospel just a couple weeks ago.
Our plan is to start offering Adoration on the Feast of the Exultation of the Cross, September 14. The hours will be from 11:00 AM to midnight. It is imperative that we have a minimum of two people at each hour. I hope you will consider committing yourself to one hour a week. There's more information in this bulletin. Spend some time looking at Jesus looking at you. And know the gaze of our loving Savior!