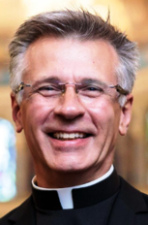 May 9, 2021 –
Happy Mother's Day to our moms and all the wonderful women who have shown us a mother's love. Each of us has our own unique relationship with our mother. The virtues they teach us are many and varied— love, patience, endurance, and sometimes even courage. As a person who is not a parent, I often stand in awe at the strength mothers show for their family.
I have seen tremendous sacrifices for the good of children and perseverance when the marriage relationship is sometimes hard.
And how many skills do we learn from our mothers? Cooking, sewing, folding clothes, making a bed, organizing, home economics, juggling appointments—- the list goes on! These are not exclusive to moms but often they are the ones who teach these skills.
My mother, Lillian, died when I was six, leaving behind a broken-hearted husband and four children. My memories of
her are too few. Some, I have to admit, I'm not sure really happened as I recall them. But the snapshots I have in my mind are those of joy, a certain unpretentious casual elegance, and patience. When she was about to lose her temper, she would bite the side of her thumb. With us four, I'm surprised she still had it! I also remember her sickbed in our dinette, and my brother David jumping out of bed when he could hear her in distress. We learned at an early age that cancer is cruel.
She encouraged my father to remarry, and I feel certain she had a hand in bringing a wonderful woman to be my father's wife and a gift we would always call "Mom." My stepmother, (we never use that term) Marilyn, continues to be a source of joy and love, including having two more girls with my father. From her, I have learned patience, commitment and unwavering loyalty.
If your mother is still around, cherish her. If not, cherish her care from her place in heaven. To all our dear mothers, we love you!  May our Blessed Mother Mary pray for us!