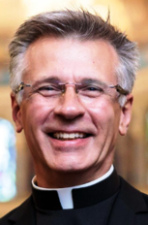 September 26, 2021
One of the most important spiritual exercises is that of gratitude. I really believe gratitude could be the key to changing so much that hurts our world. With gratitude, we let go of envy, greed, and consumerism. With gratitude we count our blessings, feel joy for what we have and don't feel a need for more. Among the gifts of our lives, of course, are the people God brings to us. For Saint George, a true blessing for seventeen years was Father Ken Fleck's ministry. After forty-five years of priesthood, Father Fleck is now enjoying retirement but continues to serve God's People in several parishes.
We will be expressing our gratitude for Father Ken with two events: The first is on Sunday, October 10, starting with the 11:30 AM Mass, followed by a family-friendly picnic right here at Saint George. We will be in the parking lot but if it rains, we will move to the gym. Please see the notice in today's bulletin.
The second event will be a gala dinner-dance on Sunday, November 14. Again, we will start with the 11:30 AM Mass. The event will go from
3:00 PM to 7:00 PM at Gaelic Park, 6119 147th Street in Oak Forest. Along with honoring Father Ken, we will also thank our COVID re-opening teams who made public worship possible.  More information will be coming soon! Stay tuned!
These events honor not only our COVID teams and Father Ken but also are a testimony to our parish. It has been quite a while since we've had occasions like these. Please join us on October 10 and November 14 !
On another note, I want to express my gratitude for everyone who has been so patient and cooperative with the COVID protocols of the state and the Archdiocese. "I love wearing a mask!" has been said by nobody! Regardless of our personal feelings, it has been most gratifying to hear people say that they feel safe to come to Mass at Saint George. This could only be possible because everyone is going along with the program. So on behalf of many, many people, thank you for wearing a mask.
I know how frustrating it has been not to have a regular Music Director for so long. I am very grateful for the wonderfully talented people who have helped us through these many months. Though we are advertising the job, there are very few people with the right combination of skills and knowledge we are seeking. Although I would prefer to wait until someone is hired, we have ordered music and readings books for Mass. I am hoping they will arrive very soon. Again, thank you for your patience. And please pray to Saint Cecilia, patron saint of musicians, to send a good, talented, faith-filled person to Saint George!