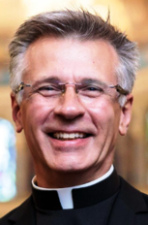 June 13, 2021 – Last weekend was a beautiful time for us to reflect on the Feast of the Body and Blood of Christ. What we possess as a gift of God's gracious love is beyond human comprehension. Every Mass is another opportunity to receive blessings far greater than we could ever ask for, had Jesus not given it to us first. Though last week was the Feast, we know each Mass is the same celebration… Jesus, real and alive among us in the form of bread and wine.
All through the ages, the Eucharist has been a comfort and inspiration to Catholics. Many other Christian denominations honor Jesus in sharing bread and wine as a symbol of God's Presence. Our Catholic perspective on the Eucharist is unusual because it is literal. We believe that the bread and wine become the Body and Blood of Christ by the working of the Holy Spirit. That should be a jolt to anyone reading these words! Perhaps we've heard them so often, we have become immune to the gravity of that statement. That would be a terrible and sad mistake.
Losing touch with the power of the Eucharist is deadly to us Catholics. I have been deeply moved over the past year as I spoke with people yearning to return to Mass. And what is it they missed so much? The Eucharist, of course! Sure, there were other things we've missed — the community, the gathering, the setting of a holy place. All of these are good. But nothing can top receiving the Body and Blood of Christ as we do at Mass.
It has been so good to see more people coming to Mass in person. There are still folks who are concerned about coming back into a church. That's why we have the parking lot Masses at 4:00 PM on Saturday and 9:30 AM on Sunday. People can listen to Mass on their radio and Communion is brought to them in their cars. We will continue offering Mass online for those who cannot come.
When COVID-19 changed our lives, I ran into a statement written in chalk on the sidewalk. It read: In the rush to return to "normal," use this time to consider which parts of "normal" are worth keeping.
The normal way to celebrate the sabbath for Catholics is by attending Mass in person. That is our "normal." That is a part of "normal" that is so vital for us to recapture. The dispensation from Mass attendance is still in place, so if you are not coming to Mass in person, and it is for reasons of health, that is valid and appropriate. We don't want anyone to get sick or anyone getting someone else sick! We've missed you and can't wait to see you again!  But if you have slowly returned to some of your old "normal" routines (like shopping, eating out, movies), and Mass isn't one of them, I hope you'll give it serious consideration.
It's time to come back and pray for our troubled world. It's time to bring the kids and make sure they know how beautiful it is to come to God's House.  And it is unquestionably the most profound part of our Catholic "normal" to prepare ourselves well and receive the Body and Blood of Christ. You can't do that watching the Cardinal on TV with a cup of coffee in your jammies. There is nothing "normal" about that. So let's all get out there and invite folks to come back and join in the most extraordinary "normal" you can find in heaven and on Earth!